New Teeth in a Day Implants
"I was at the verge of losing all my teeth. That's when I looked into the New Teeth in a Day. Now my eyes smile as well!"
Ottawa New Teeth In A Day
Many of our patients have suffered in many aspects of their lives simply because of poor dental problems, and especially when they are practically losing all their teeth or their teeth are simply hopeless. This may be due to a fear of dentists that have resulted in no dental visits in decades, and some come from an accident that left them in need of such care.
Getting to the root of these problems used to cost a significant amount of time and money: 18 to 24 months and costing over $100,000. Furthermore, these procedures required many surgical procedures including bone grafting causing this process to be painful as well.
This is where the revolutionary New Teeth-in-a-Day: while-you-sleep procedure emerged – to provide these very individuals with a solution that only required a one-day surgery, no bone grafting, much less time and money and pain! And the best part, it's done while you sleep!
We have performed over 150 New Teeth-in-a-Day procedures over the past 10 years. We have seen all types of cases and you can rest assured that you will not feel alone when you come see us.
BEFORE looking at the short comparison between the traditional versus the New Teeth in a Day procedure, it is very important to note that after a complete exam we will be able to advise properly on what is best for you. It's like looking underneath the hood before we can diagnose the problem and the best way to solve it.
Here is a more quick comparison between the traditional and the New Teeth-in-a-Day.
Dental Implants Dentist Ottawa – All on X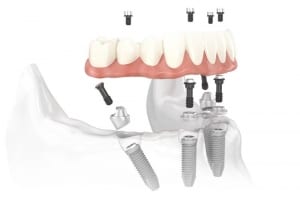 In order to understand our process for replacing teeth, it's important to understand what a dental implant is. A dental implant is a small titanium screw that fits inside your jawbone and replaces the root-part of a missing tooth.
Dental implants Ottawa & Gatineau process involves minor surgery to insert the implants, a crown is then attached resulting in new teeth that combine both form and function.

You may be surprised to find out that you do not need an Implant Dentistry Ottawa for all of your missing teeth. Instead, four or more precisely placed implants on the top and bottom of your mouth will restore your full smile. That's the advantage of New Teeth in a Day Ottawa!

Our dental implants Ottawa are made of titanium and have the unique ability to fuse with your jaw to serve as a strong foundation for your new smile resulting in many key advantages that will give you the confident new smile you deserve.

Your new foundation prevents bone loss in your jaw, maintains a youthful facial structure, improved oral health and most important, New Teeth in a Day Ottawa can transform your life. Schedule your appointment to learn more.
Before & After Dental Implants Ottawa
New Teeth In A Day vs. Conventional Implants
CONVENTIONAL TREATMENT
8 implants needed per jaw
 Bone grafting (taking bone from hip) was required to secure the implants
 Meant multiple surgeries were needed and healing time was longer
Temporary removable dentures needed for at least 1 year
Process takes 12 – 18 months
Dentures cost 

very expensive: $80,000 – $100,000 for both jaws
NEW TEETH-IN-A-DAY TREATMENT
 Dental Implants Treatment is done in ONE VISIT while you sleep
4 or more implants per jaw, which act like the roots of your own teeth (without the cavities or gum disease)
No bone grafting needed, which means no additional painful surgery
You can enjoy your new teeth immediately
Less implants means less surgeries, which equals less cost
$30,000 – $35,000 per jaw
Less costly options also available upon consultation
Who is Teeth-in-a-Day for?
Teeth-in-a-Day is for people who have their own teeth, but are in bad shape. Most of our Gatineau & Ottawa dental implants patients have held on to their bad teeth for years, from fear or not knowing where to go for help. Sedation Dental Group has spent the last 35 plus years helping those who are afraid of the dentist and who have extensive dental problems.
Teeth-in-a-Day Ottawa & Gatineau is also for those who already have dentures, but are tired of them being loose, painful, or even falling out. Ill-fitting dentures inhibit the ability to eat and speak properly, which interferes with one's social life and can make you look older.
Teeth-in-a-Day Is For People of All Ages!
No one is too old for Teeth-in-a-Day. We have done this for people in their 90's, who were losing weight because they could not eat properly. After treatment in the dental implant clinic Ottawa & Gatineau, they were once again able to eat, gain weight and enjoy life!
"A gift for myself … I've worked hard all my life. Now it's time for me. This procedure can impact the rest of my life, and it's an investment I want to make."
"Everyone I knew before is amazed when they see me and the people I've just met have no idea these aren't my real teeth, really no idea at all."